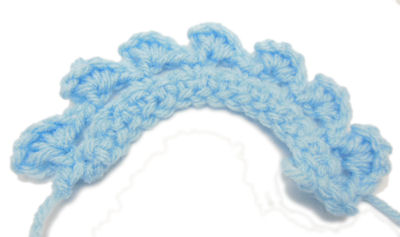 This stitch is best used as an edging but can also be used as part of a pattern for dishcloths, coasters, sweaters, scarves and afghans. It starts out as a chain then the chain is worked like an afghan st, then it becomes what looks like a half slice of citrus fruit.
---
---
How to work the Citrus Stitch (cit)
When using this stitch, you will need to use some sort of supporting stitch to make this work out right. Such as in this month's dishcloth or the coaster. In the dishcloth, you have every other row made up of sc and dc to support the cit stitch and keep it in place. You also need to secure the stitch on the row with a sc or dc st between each cit stitch. Plus you need to allow room for this stitch. You will need to be working with a multiple of 2sts plus 1 when using it in dishcloths.
Instructions
Ch5, insert hook in 2nd ch from hook, pull up a lp, *insert hook in next st and pull up a lp. Rep from * 2 more times. Yo and pull through all 5 lps on hook. Ch1 to close.
Random Quick Tip!