Braid Stitch (brd)
This stitch is called the braid stitch (brd) cause it looks like a braid. it can be used in any pattern and is best used with a dc next to it. You can do a whole row of just the brd stitches but you will end up with a knobbly type of effect so you may want to make sure that when working in rows, you do a row of sc on every other row so that the knobbly stuff is all on one side.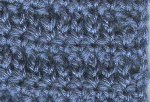 This is the Front of the fabric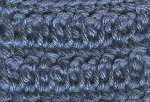 This is the Back of the fabric
Back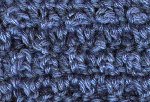 This is the way it looks with dc stitches on every other stitch.
Suggested materials
Worsted Weight--For afghans sweaters & sampler squares.
Worsted Weight cotton--for dishcloths, sweaters, placemats.
Sport & Baby yarns--For afghans, & layettes.
Crochet Threads---motifs, placemats, doilies done in rows.

Suggested Hooks
For WW Yarns F,G,H,I,J
For Sport & Baby Yarns D,E,F
For threads Use what ever size hook is recommended for the size thread you are using. Steel works best of course.
You can use this stitch with nylon yarn to make dish scrubbies or use baby yarn to make baby blankets. You could even use 2 strands and a P hook to make a very thick and full afghan. This is a very versitle stitch and is alot of fun.
Instructions
To do this stitch just insert your hook in the stitch indicated, draw up a loop, and while keeping the first loop on your hook, ch3 then yo and pull through both loops on hook.
To do the stitch pattern with a dc next to it work the following.
ROW 1: Ch an even number of chains. Sc in 2nd ch from hook and in each ch across. You should now have an odd number of sc. Ch3, turn.
ROW 2: The turning ch3, counts as first dc. Insert hook in next st, draw up a loops and while keeping the first loop on hook, ch3, yo, pull through both loops on hook. Dc in next st. Rep from * across row, then dc in the top of ch3. Ch3, turn.
ROW 3: *Brd in next brd. Dc in dc. Rep from * across. Ending with a dc in top of ch3. Ch3, turn. Continue working row 3 until you reach the desired size.
Design written on Tuesday, April 27, 1999.
Copyright©1999-2013-2017 by Julie A. Bolduc all rights reserved.
Random Quick Tip!