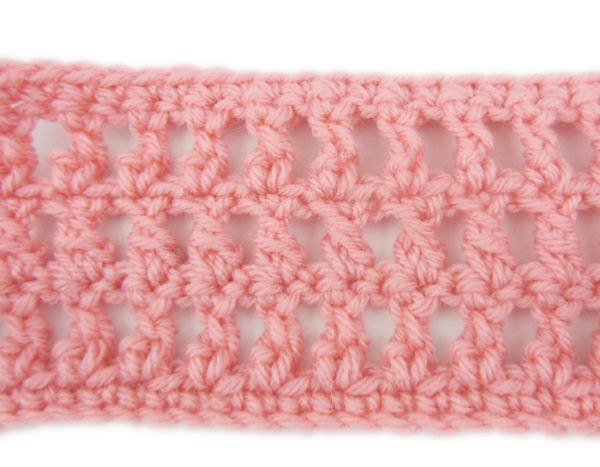 Flag Stitch
Flag Stitch (flg): It is a single standing stitch and not a pattern stitch. It can be used in many different types of patterns and I have designed 3 patterns that have this stitch in it. One is worked in the round and the other one is part of a dishcloth pattern that can also be used as a sampler square.
Watch the Video!
Suggested materials
Worsted Weight--For afghans sweaters & sampler squares.
Worsted Weight cotton--for dishcloths, sweaters, placemats.
Sport & Baby yarns--For afghans, & layettes.
Crochet Threads---motifs, placemats, doilies done in rows.

Suggested Hooks
For WW Yarns F,G,H,I,J
For Sport & Baby Yarns D,E,F
For threads Use what ever size hook is recommended for the size thread you are using. Steel works best of course.
Instructions
Here is how the stitch is made.
Work the following into the same stitch. Yo 2 times, (insert hook, draw up a loop, yo and draw through 2 lps on hook), Rep bet () once more. Yo draw through 2 more loops on hook, twice. Then sc in the last 2 lps you just worked off.
You might want to make a sampler square in the following way to practice this stitch. It creates a very holey fabric so you might want to use thread for this swatch. Then when you are done, you will have a coaster you can use.
Make a base chain of an odd number stitches. 31
ROW 1: Then work a row of sc to form a foundation row. Ch4, turn.
ROW 2: Flg in next st. *Sk next st. Flg in next st. Rep from * across. Tr in last sc. Ch4, turn.
ROW 3: Work a Flg in each flg st across. Tr in top of ch4. Ch4 turn.
Work row 3 until it is the size you want.
Random Quick Tip!