Paper Bead Cutting and Marking Templates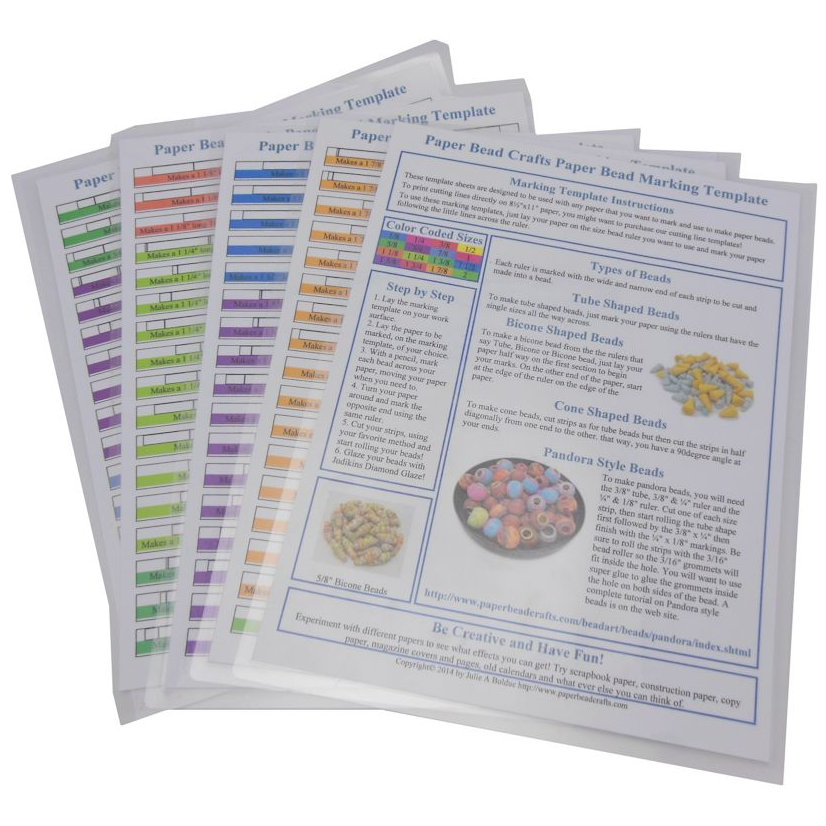 The prices include shipping to the US only. Anywere else, the shipping is not free. The laminated version is $19.99 and the download version is $6.00.
Paper Bead Marking Templates
Designed by Julie A. Bolduc

This set of templates is available either as a download or as a fully laminated set of templates. You can find out the details about this set of templates at Etsy and Amazon.com. At amazon it is only available as a fully laminated set of templates.
---
Product Links
About the Templates
I started making templates in February 2014 in pdf format for printing and layering onto pretty paper. You can also print the template onto the back side of your pretty scrapbook paper if you wanted to as long as the paper is in Letter size format. Since then I have also created machine cutting templates with the software that came with my Pazzles Invue cutting machine.
In 2022, I gave up using my Pazzles since I discovered the pazzles website, at the time I first checked, was no longer offering the Invue Software. At the time, it seemed that the Pazzles company might be going out of business, I was not sure. I needed cutting mats and couldn't get them at a reasonable price. So in April 2022 I bought a Cricut Explore 3 and scrapped my Pazzles machine. I also found out my machine cutting templates were not usable in the Cricut, that is part of the reason for my switch to Cricut. I also realized that the Cricut machines had a very HUGE following, and tons of support, so it made sense for me to switch.
I am keeping the Invue Software so I can keep making templates. I am working on redesigning every single template I created before. I am still using Pazzles Invue software but I am making sure I can use them in my Cricut Explore 3 before I make them available for download. This will take months because there are other projects I want to work on as well. For example, finishing the Quilt as You Piece Quilt I started in November of 2021.
Each size of template I make will have it's own page, just like the crochet patterns and bead sheets. It will have it's own section set up just like the crochet patterns and other pages on this site. Hopefully you will be able to find what you want quickly.
I will make 1 template from each size set availabe to everyone to download so you can test the files for yourself to see if they work for you. The rest of them will be available for points and then bundled up and available on Etsy when they are ready.
When I build each size template, I will make a pdf and svg file and provide separate links for them, they will be on the same download page. They will be organized according to the bundles I have put together before. For example, the 1/8in, 1/4in and 3/8in templates will be grouped together in one area.
Random Quick Tip!